It's almost quitting time for the day, and even though you've done all of your core tasks, there's still a bunch of manual admin work left. And all you can think is, "I just don't have the &%$! energy for this…" You know this pain well, so if you could save your team from it and make them more productive at the same time, why wouldn't you?
We've come up with 3 power plays that your Energy teams can use in reducing bottlenecks and getting their productivity back on track! Can we get a watt watt?! ?
Optimize your daily, redundant processes
Bottlenecks, roadblocks – whatever you choose to call them – are the primary cause of stifled workflows, and if you don't address them, your team's future productivity levels are most likely going to be even more (cork)screwed.
One potential bottleneck is paperwork. The extra time it takes to manually complete a form or drag paperwork from site-to-office could be costing your team hours of valuable time. When it comes to tackling the paperwork bottleneck — whether it's vehicle or equipment inspections, workplace safety inspection checklist, NERC compliance, outage scheduling/reports or other paper-heavy processes — you can unleash the power of productivity with workflow automation; which has been taking the pain out of day-to-day processes since…well, forever.
Let's take a 'before and after workflow automation' look at an example of a work order process: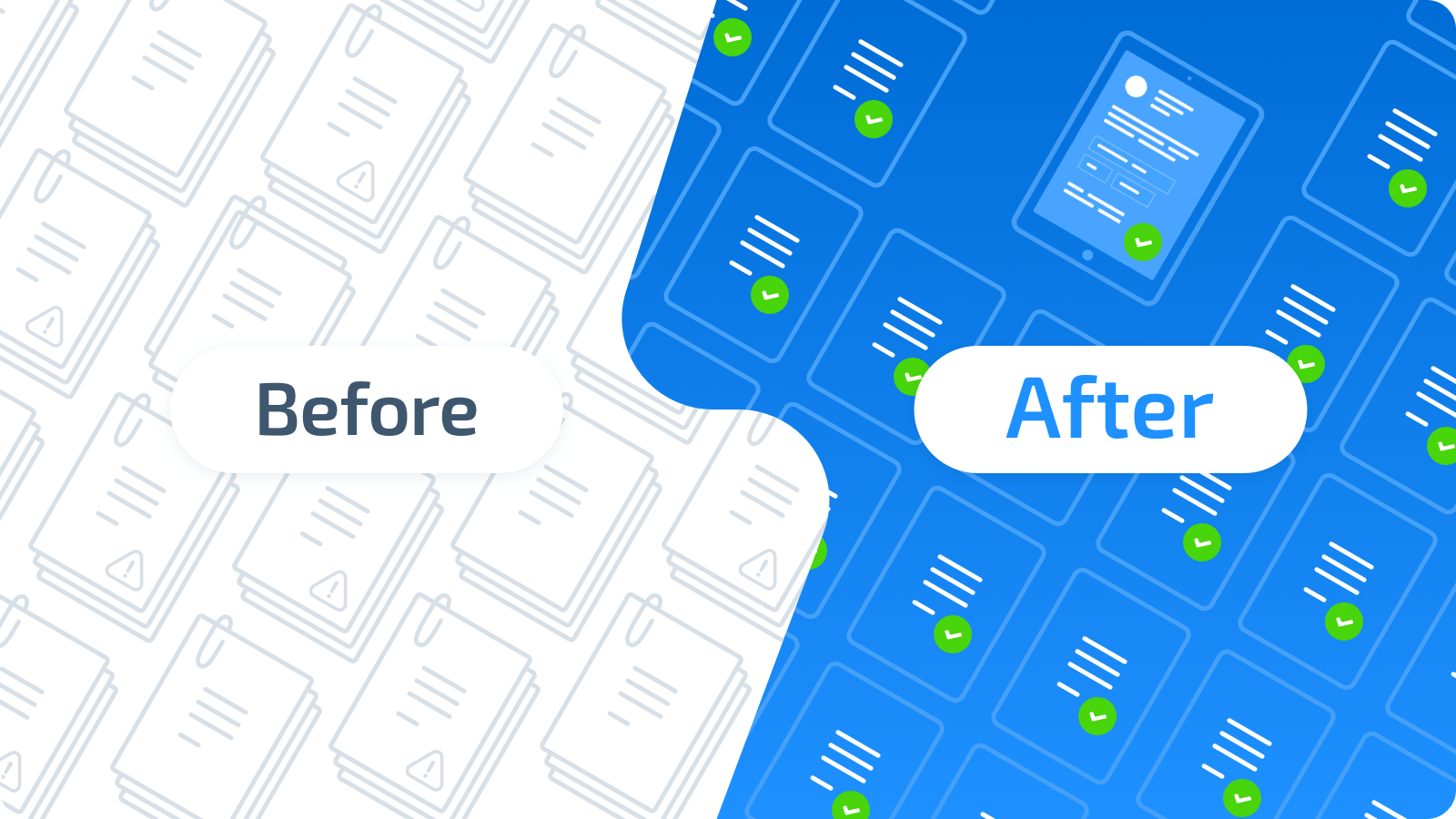 Before:
After:
– Field technicians need to drive from site-to-office to pick up new assignments and drop off completed paperwork.

– It takes longer than it should to invoice customers for services provided.

– It's impossible to correct mistakes or update manual forms in real-time. As a result, time and labor costs are wasted on sending documents back-and-forth for corrections and signatures.

– Printing and document storage costs are high.
– Field teams eliminate additional transportation by quickly accessing documents on their iPads or iPhones. Then, securely upload completed forms to cloud storage or email back to the office.

– Customers experience a streamlined and immediate billing process with automatic process workflows.

– Form corrections can be made in real-time and missing approval signatures can be added last minute to avoid potential delays.

– Paper documents are no more – fillable PDFs now rule the roost – so there goes your printing costs.
Improve communication and encourage collaboration
Ahhh, communication! There's no better way how to find the bottleneck in a process than to ask the people on the frontline of the business to tell you where they see workflow and productivity issues arising.
There are lots of great ways to open the channels of communication with your team, such as sending a company-wide email survey that employees can submit anonymously. Or host a brainstorming session in a casual setting to ask your team how they would improve and optimize their workflows.
It has been said that a creative, motivated, well-functioning team will have a far greater impact on your company than one super-productive employee. A recent study revealed that promoting collaboration between teams can improve workplace performance by as much as 5x times the existing rate. Essentially, by encouraging collaboration you're promoting a positive company culture and increasing productivity levels at the same time! How's that for multitasking?!
Make data-informed decisions
Trying to solve productivity issues without consulting all available workflow-impacting data is like the blind leading the blind.
With data now regarded as a linchpin of the future of Energy, the focus is very much on learning more about how to find the bottleneck in a process and productivity pitfalls using the data. In a recent research project conducted by Accenture, Data Analysts working in the Oil and Gas industry were asked how they were utilizing data — 74% of those respondents said that they had a primary goal of using data to improve efficiency and productivity.
Uniper, a German energy company, utilized Tableau and other data visualization integrations to access data that had been stored across several departments of their business. The company then collaborated on addressing specific business use cases to solve their pain points.
"We are in an increasingly complex world of ever-changing technologies and markets. We don't want IT to be a bottleneck – we want it to be an enabler for self-service," said René Greiner, VP of Data Integration at Uniper.
By utilizing data, the Uniper teams were more focused on their daily tasks, optimizing their time and capacity for sustained levels of productivity. That's just one example to hopefully inspire you to start your own success story!
Whether you measure success in gallons or watts, it's the pitter-patter of your team's productive feet that will drive success for your company. If your team's current productivity level feels more like a swamp than a stream, it's time to get things moving beyond the bayou. If you're thinking about productivity software, check out The do's and don'ts of software demos…and 11 helpful questions to save you time!