Fluix on Android is here!
Redefine Your Team's Experience of Routine
Hardworking teams need the right tools to do their best work. Our customers told us that flexibility is key to their operations, so we turned feedback first into plans, and then into action. Today we're delighted to officially announce that Fluix is now available on the Android platform!
What the Fluix Android app may offer your teamLess manual work and more automation brings faster results and helps companies to make data-driven decisions. Let's see some of the benefits the Fluix Android app brings:
1. Create a transparent process for cross-functional teams
Use an intuitive drag-and-drop diagram design to create a straightforward flow based on the steps of your business process.
Each participant in the workflow will get a clear task with fillable forms, manuals, and descriptions of the recurrent job.
Teams can work with one or more forms simultaneously, and push them down the workflow.

Set clear tasks to get predictable results.
2. PDF and web forms in one bundle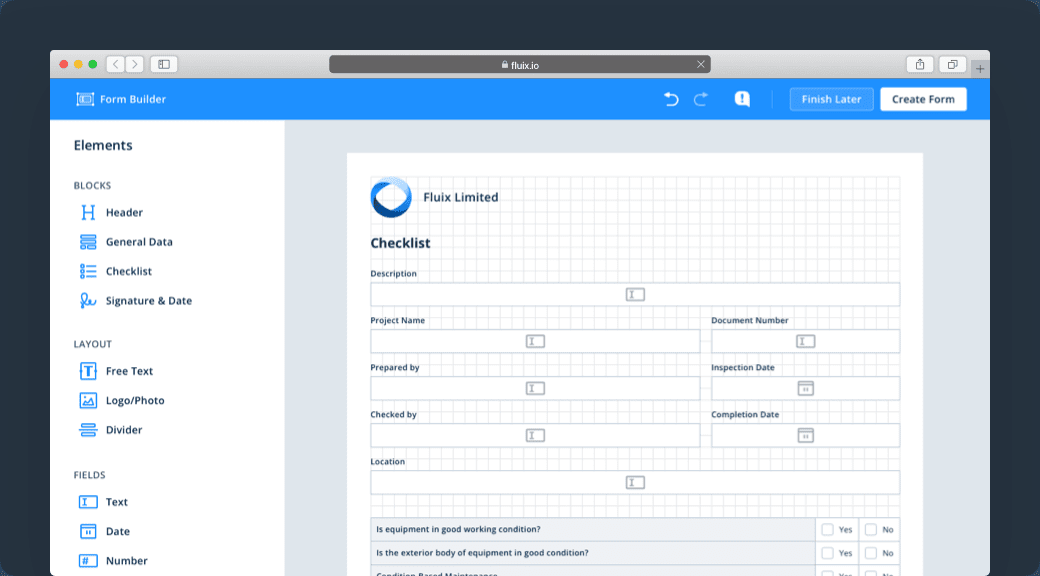 You can now add both web forms and PDFs to workflows: create a webform in Fluix Form Builder, and upload an existing PDF. Your remote teams will be able to fill in and submit both forms within one task.
Work with the formats you prefer.
3. Defined form fields
Let your team fill out only the fields you need. Assign what form fields are required, or set others as view only for each team, to ensure the form is completed as it should be.
Eliminate human error.
4. Dynamic values
Automate form naming and email text with dynamic values. The data from the chosen fields in forms will be automatically added to form names, as well as text in the Send by email action each time users finish their tasks.
Set it and forget it.
What else?
Integration with Procore, Smartsheet, Pipedrive and other powerful 3rd party integrations to make your tools talk to each other and facilitate the automation of more business processes in your company. Learn more ⇢
What's next?
Automated pre-population of data in forms for even faster data collection.
Notes to forms that the app users will be able to make when reviewing the forms.
Want to try Fluix on Android? Simply email us at support@fluix.io.
Sign Up to Our Product Newsletter
The latest updates from our Product team, straight
to your inbox