Global lockdowns to curb the spread of the coronavirus have changed the way businesses are operating. Virtually overnight, businesses without established work-from-home policies were forced into adopting remote work arrangements.
Organizations unprepared for such a shift have been scrambling to catch up. Lacking the hardware, software, and cybersecurity infrastructure necessary to carry out business as usual, organizations had to switch to digital means and learn how to work from home effectively on the go. In-person appointments, meetings, and training sessions have quickly been replaced by collaboration tools like Slack and Zoom, allowing users to chat in real-time and communicate over video.
Simply adopting communication apps for business, however, doesn't guarantee success. What good is a teleconference, if it's as poorly-organized as an in-person group meeting? Properly executing business process automation requires a close look at how business processes are carried out. Without the right operational processes, remote teams can end up wasting work hours trying to troubleshoot software problems when the underlying issue is an inefficient work process flow.
Here are some of the most common issues interfering in your remote team's productivity:
1) Unproductive workflows
Technology can help address a myriad of problems, but killer apps don't solve anything if they're not being properly utilized by employees. When best practices aren't enforced from the top down, bad habits can continue to follow employees into remote working situations.
Set employees up for success by creating processes that are efficient, reproducible, and easy to execute. Business process automation can establish clear and efficient methods of sharing documents in a simple, replicable manner among your entire team.
2) Repetitive administrative tasks
Mistakes that stem from relying on physical documents can be time-consuming and impede quality work from getting done. Considering a remote workforce must rely on computers or mobile devices, efforts should be made to fully streamline and automate tasks that involve paper or manual entry to reduce errors, boost productivity, and avoid cross-departmental miscommunication.
Document workflow management software helps reduce human error and drive business process improvement, by allowing remote teams to fill out forms, sign contracts, and distribute documents electronically. Replacing paper-based, manual tasks with automated digital documents and processes provides your team with the ability to extract additional data and gain actionable insights into your day-to-day operations.
3) Inefficient software
Just as no two businesses are alike, similar-looking software tools may offer vastly different benefits to an organization. To keep the productivity of remote workers at a high level, take time to assess the features and capabilities offered through various productivity and collaboration tools.
Electronic whiteboard capabilities, for instance, may seem superfluous for one team but become essential for another. Ensuring employees can make the most of their remote work apps can help them carry out just as much work at home as they would in the office.
4) Cross-departmental miscommunication
This has always been a stubborn reality of the workplace. But when communication moves strictly online, it becomes essential for gray areas to render as black and white. The same personal touch that comes from an in-person meeting can't be replicated electronically. Therefore, it's essential to adjust your modes of communication to ensure messages are being received loud and clear.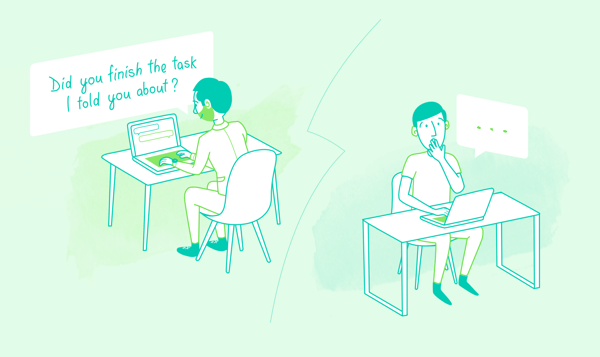 The tone of an email, the audio quality of a teleconference, and the speed of a Slack chat can make all the difference in the world. Establish best practices that ensure communications are received with speed, clarity, and ease to keep business moving without unnecessary confusion or interruption.
It's time to establish correct remote work arrangements
Whether it's a home office, coworking space, or anywhere in between, small businesses should think in terms of processes — not tools — to stay efficient and effective. As remote work arrangements are likely to remain an essential part of business today and tomorrow, establishing proper work processes can spare future headaches, keep workers on task, and ultimately save money. By focusing on a particular problem and working backward to find the right piece of software, organizations can ensure they are always selecting the correct tool for the job.